ACTRESS: KAROL CRISTINA DA SILVA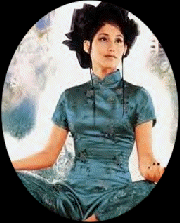 Brazilian-born model/actress, Karol Cristina da Silva, played Rabé in The Phantom Menace.
Had she not fallen in George Lucas' good graces, she would have been yet another voiceless extra. Lucas gave her more scenes and a few lines. Despite the smallness of the role, Karol Cristina remained enthusiastic.
Film credits:
Dead on Time (1999) … Nurse
Star Wars: Episode I – The Phantom Menace (1999) … Rabé


-----------------------------
This is a non-profit fan site, created for entertainment purposes only. We are not associated with Lucasfilm Ltd., Sofia Coppola, Karol Cristina da Silva, Keira Knightley, Candice Orwell, Natalie Portman, Friday 'Liz' Wilson, Rose Byrne, Veronica Segura, or any of their professional representatives. All materials based on Star Wars on this site are protected by copyright and trademark by Lucasfilm Ltd.