ACTRESSES: KEIRA KNIGHTLEY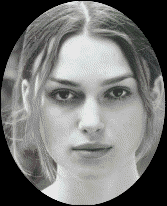 British actress, Keira Knightley, played Sabé, the decoy queen, in The Phantom Menace. She is the daughter of actor Will Knightley and actress/author Sharman MacDonald.
Knightley has done both television and film work. She has worked in British, French, German, and American productions.
Film credits:
Love Actually (2003) … Juliet
Pirates of the Caribbean, The (2003) … Elizabeth Swann
Pure (2002) … Louise
Bend It Like Beckham (2002) … Jules
Deflation (2001) … Jogger s
Hole, The (2001) (as Kiera Knightley) … Frankie Smith
Star Wars: Episode I – The Phantom Menace (1999) … Sabé
Innocent Lies (1995) … Young Celia
Village Affair, A (1994) ... Natasha Jordan
Television credits:
"Zhivago" (2002) …Lara Guishar
Princess of Thieves (2001) … Gwyn
"Oliver Twist" (1999) (as Kiera Knightley)… Rose Fleming
Coming Home (1998) … Young Judith
-----------------------------
This is a non-profit fan site, created for entertainment purposes only. We are not associated with Lucasfilm Ltd., Sofia Coppola, Karol Cristina da Silva, Keira Knightley, Candice Orwell, Natalie Portman, Friday 'Liz' Wilson, Rose Byrne, Veronica Segura, or any of their professional representatives. All materials based on Star Wars on this site are protected by copyright and trademark by Lucasfilm Ltd.