ACTRESS: NATALIE PORTMAN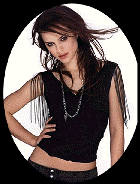 Israeli-born actress, Natalie Portman, plays Padmé Amidala in the Star Wars "prequel" trilogy. Portman began her acting career in the critically-acclaimed feature film, Léon. She followed up this debut with a series of supporting roles and a successful turn on Broadway in "The Diary of Anne Frank." She was nominated for an Academy Award for her performance in the 2004 film Closer. For more information about Natalie, be sure to visit Natalie Portman dot Com.
---------------------------
This is a non-profit fan site, created for entertainment purposes only. We are not associated with Lucasfilm Ltd., Sofia Coppola, Karol Cristina da Silva, Keira Knightley, Candice Orwell, Natalie Portman, Friday 'Liz' Wilson, Rose Byrne, Veronica Segura, or any of their professional representatives. All materials based on Star Wars on this site are protected by copyright and trademark by Lucasfilm Ltd.